ALL RAMPS ARE HANDMADE USING LOCALLY SOURCED MATERIALS
ALL RAMPS ARE HANDMADE USING LOCALLY SOURCED MATERIALS
All ramps are available in a wider width of 44cm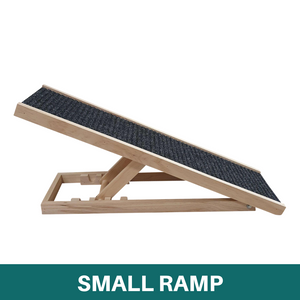 4 heights: 35cm, 40cm, 45cm and 50cm
Overall dimensions: W28 x L95cm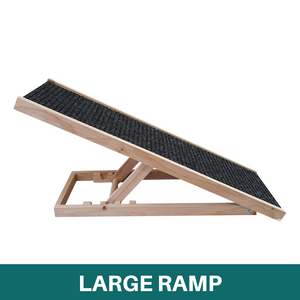 4 heights: 35cm, 40cm, 45cm and 50cm



Overall Dimensions:  W32 x L100cm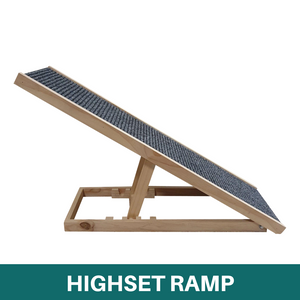 4 heights: 50cm, 55cm, 60cm and 65cm
Overall Dimensions:  W32 x L110cm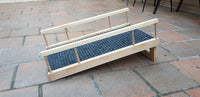 Custom Ramps
We know its not "one size fits all" so we can customise most ramps to your liking, for example:
- Mini ramps to assist with dog doors
- Ramps for a small set of indoor steps
Please feel free to contact us if you require a custom ramp and we would be happy to help!
Contact us
Dashie Dog Ramp Fans
Well made ramp & fantastic customer service. I will definately buy another if we have the need for a second ramp.

Sarah Jane
These ramps are made so well, the quality is fantastic. I paid the extra for the strengthening because I have two French bulldogs + a 2yr old human whom I knew would climb all over it like a mountain goat. Thanks so much, love the fact I'm preventing potential injuries for my furbabes.

Shantelle
Our dachshund recently lost his eye sight, so we ordered a custom made ramp, which included side rails (for his safety), for our back patio door. Rambo no longer has to navigate the step and loves going up and down the ramp. Order was made very quickly. Thank you so much!

Chelsey
The ramp arrived with very fast shipping and was packaged beautifully. It feels very sturdy and well made.

I've purchased some treats as well as pepper loved the little sample so much!

Elise
We love our new large sized Dashie Dog Ramp! Our baby Bessie has picked up how to use it very quickly and we are so pleased. We thought we would use the one between the lounge and the bed but we're thinking we might get a second one for the bedroom as they're the most affordable ramps we've found online. Love it and would highly recommend 👍👍👍

Annette
Our ramps are approved and endorsed by DISA (Dachshund IVDD Support Australia). 
For more info from the lovely crew over at DISA visit their website. www.ivdd.org.au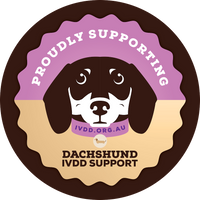 Please check SPAM folder for confirmation email after purchase, Thank you